Big D...
It is truly hard to believe it has been 3 years since you went to Heaven!
There isn't an hour of any day I do not hear you in my head, in a song or even sometime smell your scent. Remembering the soft touch, the mischievous smile and yes, even the eye-rolls. For 42 years, I was a physical part of your life and now 3 in the spirit realm. I often recall mentally the "remember the time when...", there were so many!
I want you to know that I do not hesitate to share with others how I was blessed with a kind of love most do not even know to dream about and I want to thank you for that. Not sure why God saw me worthy to receive your unconditional love but to HIM I am grateful, as well. Having the luxury to work side by side professionally, and then with you during your illness was both a blessing and a curse.
When I have days of missing you, I reflect back on the last 10 years of your life here on earth...the pain, the suffering, the humiliation and I immediately snap out of wanting you to return. Ain't nobody got time for that! As I have said many times, if you had been a domesticated pet, suffering like you did, I would have put you down sparing you the hand you were dealt. The times I get angry with God for dealing you that hand, I am reminded of the many lives you saved from suffering, losing their independence and even death, not to mention the hearts you touched with your goofy love, and I can only pray that I leave such a legacy.
You lived up to your "Superman" image 100% and when I imagine you in Heaven I see you flying around...cape and all! Our loss and pain is Heaven's gain. In my eyes, you were another sacrificial lamb that endured a life to bring love, laughter and clarity to this world. You know you were called "The Minister of Mischief", right? Ah, so many memories!!
I pray your Mom baked you a cake on this your 3rd angel-versary and you beat cousin Buddy in a drag race. Thanks again for loving me unconditionally and please keep in touch. Tell everyone I said hi and I miss each one too!
All my love forever...your Honey Pot!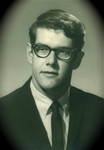 David Leonard
2/14/1949-11/15/2011